Social deficits? Their not the same as everyday difficulties in social situations. We all have experienced such difficulties, because the social world has as much potential for suffering as for happiness. But when we talk of social deficits in autism it's about not being quite part of the social world. Yet, it's not about deliberately withdrawing from this world and not about being antisocial.
I am not starting at the behavioural level to define the social deficits in autism. I would get lost in a maze where cause and effect can hardly be distinguished. For instance, there are people who often feel rejected, while others find them unbearably aggressive. Which comes first, the rejection or the aggression?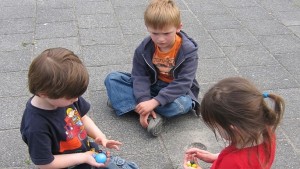 Continue reading Time we identified cognitive phenotypes for the social deficits in autism →
Behaviour is determined by so many factors that a glitch in just one of these factors is incredibly hard to discover. It's like being in the midst of climate change and generally rising temperatures, while being confounded by a cool summer. Like the observed cool temperatures, observed behaviour is potentially misleading if we want to learn something about what causes the behaviour.
Therefore I am starting at the cognitive level. I will only later go to the behavioural level when I know what signs to look out for. At the cognitive level I can let my thoughts range freely around the imagined mental machinery. I would like to poke into different bits and take them apart. I would like to see what would happen if a particular piece were missing or not working properly. Would the projected outcome resemble the real social problems that are experienced by autistic people?
What parts? What mental machinery? Well, its just a metaphor, and it may be better to talk of apps, perhaps. But here are some ideas. I believe evolution has endowed us from birth with a number of gadgets and these enable us to become the social creatures that we are. When any of them goes wrong, social deficits should result, – not to be confused with everyday social difficulties.
If we can find clues to the gadgets and what can go wrong, we are on the way to discover their neural basis and eventually their genetic origin. Progress! But how many are there? Can they each go wrong, separately or together? Here I am speculating and limit myself to 7 hypothetical mechanisms. Lets call them start-up kits, since they are subject to learning and development.
Start-up kits for a thoroughly social human being
Agency recognition (prey, predator, mate, friend, enemy
Affiliation (recognising kin, bonding, attachment)
Alignment (mimicry, resonance, contagion)
Belonging (identity, trust, loyalty, ingroup/outgroup distinction)
Hierarchy (knowing one's place, dominance/submission, alliances)
Mentalising (mental state tracking, persuasion, deception, reputation)
Morality (fairness, equity, altruism, punishment)
I imagine these start-up kits run on the fuel of social emotions to regulate social behaviour (think guilt, shame, jealousy, pride, contempt). They depend on other social signals too, as displayed in eye gaze, voice and body language. For my money, its the last two, mentalising and morality, that have some claim for being uniquely human and being shaped by cultural learning. They also have some claim  for being broken in autism.
Perhaps any of the 7 mechanisms can be broken in autism. Perhaps this leads to different forms of social deficits and hence different cognitive phenotypes. This would go some way to explain the heterogeneity of the autism spectrum. It might also explain different degrees of severity – the more the worse, obviously. Perhaps testing different mechanisms separately would lead us to form subgroups in the autism spectrum. As far as I know this has not been done in any systematic way.
If they're not broken, these hypothetical mechanisms work spontaneously and effortlessly, and are active throughout an individual's life. This is reminiscent of instincts. They respond to a certain set of stimuli with a certain set of flexible responses. However, the responses can be suppressed or modified via conscious control.
To what extent these mechanisms are independent , or interacting with each other, is a matter for debate. If they were separate then, when one of them wasn't working, a 'hole' in the mental architecture would appear, but the rest might function well. Do holes matter? It depends. Compensatory learning is a wonderful thing. If it works then the hole can be covered up to make it almost invisible in behaviour.
How then do you identify cognitive phenotypes?  You need to devise behavioural tests to capture the hypothesised cognitive deficit. Sadly, we don't have the tests. This is not because they are impossible to design, but because nobody has made the necessary major effort to devise a systematic battery of tests that are reliable and sensitive.
Most of the tests we have so far give you a score that estimates a level of performance, but they don't tell how that score was achieved. We need tests that can do precisely that. Moreover, we need to be able to detect how a score was achieved. It could be low, because of fatigue. It could be high, because of compensatory training. So, constructing valid and reliable tests is not a trivial task, they need a lot of man power and, of course, funding.  I expect this is why we haven't got them yet..
All the experimental tests we have at present are precarious. This is why I am not impressed when somebody tells me that, on tests in the lab, their autistic child is no different from any typically developing child, and hence there is no difference in underlying mental architecture. I think it would be beautiful to discover autism specific architecture, a whole city of familiar, yet different, structures.
Image credits:
Tup Wanders Flickr creative commons http://bit.ly/25k4odQ                                                          Chris Frith                                                                                                                                                            Gilles Trehin, Urville http://bit.ly/1XzJu84