At the beginning of December, the night before I was flying to Zürich, I tried to find some Swiss Francs in the drawer where such things are usually kept. No Francs were lurking there, but instead at the bottom of the drawer there were two tightly folded pages of lined paper. I did not think that I had ever seen them before. But, they were covered with my own handwriting, in pencil.  I was curious and apprehensive of what these pages would reveal. It turned out to be the beginning of a story that I had started to write 40 years ago.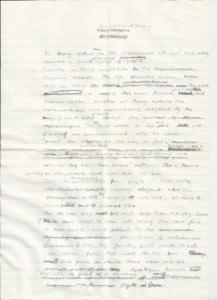 A very long time ago, in the early 1970s, I wrote a few short stories that were inspired by a Science Fiction class that Chris and I attended. I was incredibly proud when Philip Strick, our course teacher, included one of my stories in a collection called Antigrav (Arrow Books). I still list it as publication  No. 19 (1975) in my full bibliography. However, in 1975, my life changed: our son Martin was born in April that year, and our son Alex in 1978. For obvious reasons, there was no time for dilettante writing.
Memories came back, memories of the days long before word processors and when we lived in Herne Hill. This was one of many story ideas, which started with a title, and not much more.  I never knew where the titles came from but I used to let them lead me with my pencil to somewhere I hadn't thought of before. The title of this story "The weather at the bay" struck me as very strange, and I wondered whether it came from a dream. I was immediately determined that I would finish the story, and that I would not tinker with the text.  It already contained some few crossed out words and phrases. I think that writing stories was for me an antidote to writing journal articles. Here I could be unconcerned and playful. Would I have written more stories if my life had been different? A different life, a parallel universe…the ending quickly fell into place before I went to sleep that night.
The weather at the bay by Uta Frith (1974?/2014). The throng pushed into the old fashioned lift and this suddenly separated a small and mixed group of people from the milling multitude in the shopping arcade. The lift elevated them high up above the crowds. They entered a world of dark brown furniture, white tablecloths and tobacco smoke. Amelia and Harry entered the restaurant and were immediately delighted by the magnificent view of the sea through bay windows. The old head waiter in his tail coat just finished an announcement with the words: "-and the weather at the bay is fair."
They sat down on velvet chairs with their little daughter. Henrietta wore a gown of white lace and blue ribbons and with her long brown hair looked as much like a Renoir painting as the parents had intended her to be. There was much humming and talking noise from people at other tables, eating elegant titbits, calls for hurrying waiters, clinking of china on china and silver on silver.
The sea was grey and much darker than the sky. Dashes of white foam could be seen all along the wave front. A noticeable wind added to the sensations of coolness and freshness. A very dry faintly pink sandy track ran down from the hotel to the sea. Clumps of dark pines on slender stems were visible, but the grey houses were difficult to focus and of uncertain style and form. People were down there too but seemed little more than quickly moving black and white spots.
A gong sounded and the headwaiter started to make another announcement. In the general noise, Harry & Amelia could not make out the words, except that the weather at the bay was fair. Let's go to the sea, they decided [HERE THE STORY HAD STOPPED]
even though they had a vague impression from the announcement that a boating accident had occurred. Many people were now moving on the sandy track towards the beach. Others hurried over a bridge framed on both sides by lattice work. They could hardly be distinguished. Amelia exclaimed: "How like a dream it seems. So many people. Why are there are  there always so many people in dreams?" Henrietta asked: "Are these people not real then?" -"Of course they are", answered Harry, "they are real while they are there".
A loudspeaker announcement could now be heard. There was indeed a boating accident, and the small body of a child was lying on the beach, surrounded by helpers and bystanders. They drew nearer, swept along by everybody into a thickening mist. "Who is this child?" asked Amelia. "It's Octavius Raynott", was the reply, "we have no idea why he drowned; he was an excellent swimmer; he won some contests even; we are all devastated". – "This cannot be true!" cried Amelia , "Octavius Raynott is my father! He died of lung cancer only 2 years ago." Harry watched horror stricken as Amelia and Henrietta disappeared into the mist that had so rapidly formed. Before he could run after them, he had to close his eyes in a flash of pain. The weather had changed dramatically, and the sun shone directly into his eyes. He got up from the bench he was sitting on looking at a calm sea with a blue and turquoise sheen. He put on his sunglasses and left the book he had been reading lying on the bench, just as he had found it. The words on the page read "the weather at the bay is fair." -"No, it isn't", he said, as he was walking towards the bright sun.