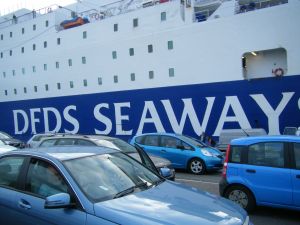 The Dana Sirena, the huge ferry, which has crossed the North Sea every day for uncountable years, will run no more. There is only one more journey and that will be to return from Harwich to Esbjerg – and that 's it. We don't know who made the decision and we wonder what the arguments might have been. We are a bit sad and wonder whether this is a sign that our annual trips to Aarhus for the last ten years must come to an end sometime.
Waiting in the car to get on the ferry, we looked back at a lecture by Antonio Rangel, a few days before, which we much enjoyed. Rangel is a leading practitioner of neuro-economics, from Caltech, and he talked about some serious methodological issues in this field. It's not about lack of replication, but about remoteness from real life. We have to face it, what people do in the lab just doesn't transfer to the real world. Something crucial is being left out and not understood. People aren't behaving as if they were optimal Bayesians.
UF: To be optimal our behaviour should be rational – no?
CDF: What economists and others mean by rational behaviour is that you choose the option that gives the highest benefit.
UF: This sounds okay, but people often seem not to choose what's best for them.
CDF: Ah, this depends. Think of the famous Marshmallow experiment. You have to resist taking the one Marshmallow so that after a certain time you will receive two. But, is it always better to delay? Of course not. If the situation is unpredictable, then it is better to take the one Marshmallow than risk never getting any.
UF: So being impulsive is not always a bad idea.
CDF: You don't choose a big reward option, if it is very unlikely to be achieved. To answer your question, people and other animals for that matter, don't necessarily behave irrationally if they don't do what is predicted by a formula to get them the highest value. The formula works in the lab where stakes are low and choices to be made occur with equal likelihood. Rangel argued that these situations are quite irrelevant to real life situations. What looks like weird behaviour from the theoretician's point of view, turns out to be quite sensible when looked at in the right context. Maybe supposedly irrational people are maximising different variables compared to what the theoreticians think they ought to be maximising.
UF: So 'crazy' people aren't irrational either?
CDF: Well, a very common idea is that everyone would behave like them if they had their bizarre experiences. Irrational behaviour means the model doesn't fit.
UF: I see. The bizarre experiences are the proper context to explain the behaviour, which might be optimal. I like it, because once again we see how important it is to consider context. Do you have an example?
CDF: It always matters how something is framed. If someone says, "my glass is half-empty" this most likely means "please fill it up". If someone says, "my glass is half-full" this means, "I've got enough for the moment". So glass half-full and half-empty are not one and the same 'value'. We find it incredibly easy to understand the meaning of utterances when we interact with others. We can calculate the value in a particular context quite fast.
UF: Isn't it odd that when the questions are framed in a complex real life context, they become easy? It's like a magic trick that shows us what the mind is really good at. It's at home with complex computations that take into account what another person might know or not know. Strip the problems down to their logical essentials, and the computations become hard and result in errors.
CDF: The question is how does the mind do it? Models proposed by behavioural scientists and economists are extremely good at modelling very basic decision processes, but in social interactions other models are needed. Only if you have such models – and this will be after lots of behavioural experiments, – should you even begin to think of brain scanning. As Rangel said in his talk, brain scanning very rarely gives you any answers. You need a model first. It will not emerge from the data. If the data fit the model, then that means something.
UF: There is something else that I wish I understood better: What our 'priors' tell us, and what we pick up from current information are often at odds with each other. How do we deal with this?
CDF: There is a good example of how these two computations can be experimentally made to conflict, and in this case the priors win: In a trust game you learn over many rounds how people behave and this should give you a good idea of whether or not to trust that person. But you pay less attention to this learning process when the experimenter has planted in you some prior knowledge about the other person. For example, you read that Peter, the partner in your game, has recently been given a medal for rescuing a child from a fire, and has raised large amounts of money for charity. During the game, however, Peter behaves abominably and cheats. Yet, you remain trusting when all your unconscious processes want to tell you that you should distrust. Bad mistake.
UF: I can see how this relates to irrational behaviour: It is the personal and the subpersonal fighting it out with each other. But it is not always clear which type of knowledge you should use for the best: the prior knowledge that you have about the other person and their past deeds, or the information you currently extract from your interaction with them.
CDF: The prior knowledge you get from others will always come from a much larger database than your own direct experience. Perhaps that's why we pay more attention to knowledge from others?
UF: Sometimes the priors can be too strong, and sometimes the bottom-up learning can exert too much influence. If there is a conflict that can't be resolved, the decision is likely to be considered irrational.
CDF: Of course the priors are not fixed. They are constantly being altered by what happens in our real time interaction with the world and other people. Data from psychophysics tasks tell us that the decision you just made affects your next decision. How can I know what I like until I see what I have chosen? My behaviour tells me something – now I know what I should do next time.
UF: Is this similar to what happens when we follow the crowd and do what other people do? They may know something that we don't know. We can benefit from their knowledge, as long as they have it. Like the traders on the stock exchange, who buy stocks that others buy. Perhaps they believe that the others have inside knowledge. This might sometimes even be true, but if it isn't, stock market bubbles can be created. This certainly looks like irrational behaviour.
CDF: I think we have been talking about our favourite topic: Two systems and how they influence each other, System 1 and System 2, in Kahneman's sense. Sub-personal and personal in Dennett's sense. The influence of other people on us, and our influence on them occur both at the personal and the subpersonal level.
UF: But how does the influence of other people, say on the stockmarket, come about?
CDF: That's what our book has to be about.
Meanwhile, after a long wait, we can drive onto the ferry. We spot a TV cameraman and a presenter in a long black coat, watching and commenting on the last journey of the old Dana Sirena from Denmark to England.
Our colleague from the Interacting Minds Centre at Aarhus University, Andreas Højlund Nielsen, told us about a 15 minute documentary film made by his sister-in-law, Mie Lorenzen. It is called '18 hours aboard the England ferry'. It will provide you with the tranquillity of a very calm transit.