Are humans the smartest species? What does it mean to be smart?
CDF: I am very interested in your suggestion that we should think about specific packages of behaviour for different species that are determined, to some degree, by their environmental niche. This brings me to a question I have often thought about. We often assume that humans differ from other species simply because we are smarter. But what do we mean by smart? Perhaps I can anticipate your answer: What is smart in one niche might be foolish in another. For example, we assume that being able to delay gratification (not eating the marshmallow immediately) is smart, but it would be very foolish in a volatile environment where no one can be trusted.
RR: Being smart must include surviving and producing surviving offspring – just think about the opposite.
CDF: In this sense, in the long run, bacteria will turn out to be far smarter than humans.
RR: There is more to being smart: we usually mean something specifically cognitive. Evolution involves adaptation but in a stable environment this can lead to specialization that becomes maladaptive when the environment changes. Being large may be advantageous because it means you may be able to overwhelm your enemies. But the package of being large means you take a long time to grow, produce a few offspring that need looking after and therefore you need to live a long time. This makes your species vulnerable to environmental fluctuations. Bacteria are smart because they reproduce very quickly and can adapt rapidly to environmental change. So, in the battle between antibiotic-wielding humans and bacteria, the bacteria tend to win. The mega-fauna did well in a stable environment, but do not cope well with human-induced environmental change and many will soon be extinct.
UF: I am glad that we are not giants.
RR: Humans are not giants, but they are mega-fauna. They are exceptionally successful as mega-fauna because their best adaptation is adaptability itself. Humans have adapted, behaviourally, to many different terrains and climates and have changed the terrain to suit themselves. They have also changed the climate, but haven't quite adapted to that yet.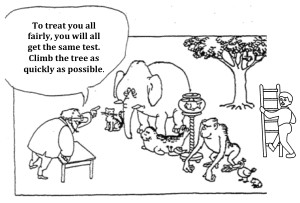 So it is cognitive and behavioural flexibility that makes humans smart. Cognitive flexibility allows humans to learn a lot which makes them even more behaviourally flexible and therefore even smarter.
UF: How on earth did humans evolve to have this adaptability? Can you briefly sketch out how this might have happened?
RR: We need to talk about selection and the Baldwin Effect.
This describes the way that learned products of cognitive flexibility  – good survival tricks – become genetically determined in a species by selection, rather than by inheritance of acquired characteristics. Here is an example: When proto-humans increased their communication skills as proto-speech, individuals with useful cognitive apps in this new social environment e.g. being good at remembering the order of sounds, being good at hearing inflections, would be favoured. This goes on over many generations and eventually a large collection of language-useful apps would be embedded in the human brain.
Now as to the mechanisms involved – this is complicated. We have to consider what genes do. Genes always compete against their alternative alleles and never do anything for the good of the species. But genes have the products of other genes, in their own body and other bodies, as part of their environment, such that complex competitions and co-operations will develop between genes. Picture how different personality types may win or lose depending on the environment. Sometimes pessimists survive catastrophe, and sometimes optimists advantageously exploit opportunities.  So a mixture of different cognitive styles (think collections of cognitive apps) will exist in a population in an equilibrium, which will fluctuate with environmental events.
Being a lot smarter than other people has survival value but it has one obvious disadvantage; in a social species being different can be difficult.
Acknowledgements: 'Culture-fair test' modified Danish cartoon, source unknown; 'Leaps & Bounds', Punch Magazine vol 4 p 273 June 10th 1893