On 5th April we all met up in front of the National Academy of Sciences, about 400 people, friends and parents and children, holding blue balloons. The light rain soon stopped as we walked along the river bank, the famous Duna Corso. It was a leisurely walk and I could talk to a number of parents involved in the Hungarian autism association. Like parents everywhere they talked about good times and bad, worries and expectations about their children, all mixed with funny anecdotes.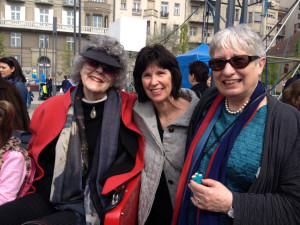 One of the participants was Eustacia Cutler, mother of Temple Grandin, to the left of the photo, looking absolutely regal aged 89 years. She  had given an inspiring talk the day before. So had Connie Kasari from UCLA, who is in the middle of the photo.  I am on the right holding a biscuit made in the shape of a puzzle piece with blue icing made by a parent.
It was a delight to be in the company of these great women. Many people might be surprised to learn that Temple Grandin's mother is a Grande Dame of the old school, a one-time actress and still a star performer, and above all a sparklingly intelligent advocate for autism. But it is not so surprising, if you consider that fiercely intelligent Temple too has the quality of a performer. However, it is only Eustacia  – [oh what an apt name] – who has the recognizable charm that radiates from great performers.
What is charm? An intangible quality, far beyond the reach of research in social cognition.
I found only one paper in a Social Psychology journal with reference to charm in the title: Feminine charm: An experimental analysis of its cost and benefits in negotiations. By Laura Kray, Connson C. Locke and Alex B. van Zant.  I was struck by something in the abstract:
…[The authors] expected that the degree to which females were perceived as flirtatious (signaling a concern for self), rather than merely friendly (signaling a concern for other), would predict better economic deals for females.
So it could be that charm is 'signaling a concern for self',  while friendliness is 'signaling a concern for other. What an interesting idea! It seemed to speak to the difference between charming Eustacia on the one side, and friendly Connie and me on the other. It also seemed to hint at an explanation of why autistic children so often strike us as simply charming. But, of course you can be autistic without being charming, just as much as you can be charming without being autistic.