I am at the gorgeously magnificent Széchenyi baths with Ágnes Kovács, one of the senior researchers of the CDC group at the CEU. I have long admired Ági's work and one experiment conducted with Ernő Téglás and Ansgar Endress, has completely changed how we think about the development of Theory of Mind. 
We are sitting at the edge of the pool marked 36ºC. Silky water is all around us and we can comfortably settle at the edge.
UF: Agi, how did you come to embark on your amazing experiment that showed that 7-months old infants can track another person's false belief? Most researchers up until then were convinced that Theory of Mind was testable only from age four onwards.
AK: It started in a conversation I had on a train in Trieste. I did my PhD there in Jacques Mehler's lab, on bilingualism and its effects on cognitive development. Amongst the effects I considered were Theory of Mind (ToM) and Executive functions (EF).
It turned out that these two factors had been confounded in the well known Sally-Anne task that was typically used to test ToM. I wanted a pure test of ToM. It occurred to me that I actually wanted a ToM test for babies, and that it simply had be a non-verbal version of the Sally-Ann task.
UF: Wow that was ambitious! So how did you get this idea and go about designing such a test?
AK: I didn't know it was ambitious, – I only knew that there was a risk  of not finding anything. So I only pursued the project on the side. Jacques Mehler very kindly allowed me to do this – even though he himself was very skeptical about it. In his lab I had learned that by merely observing babies' looking behavior you can get an idea about what they expect. So it should be possible to look for evidence of whether or not they have an implicit form of ToM.
UF: If babies have expectations, does this mean that they have mental representations –  images perhaps of what might be there in the outside world? And sometimes this image agrees with what is out there, and sometimes it doesn't?
AK: You could say that. We knew already from earlier studies that infants can represent the continued presence of an object even when the object was hidden behind a screen. When the screen was lifted, the infants still expected the object to be there.
UF: So, they did a double take when the object wasn't there.
AK:  These and other findings suggested that young infants can also represent another agent's goal, and this made me think that it might be possible to study not just infants'  representation of objects, whether they are present or absent….but beyond this, whether infants represent not just their own beliefs about objects, but the belief of another person.
UF: Why did you test 7months olds?
AK: I thought even 6 months olds might do this, since even at this age they understand goals.  But at the time, the babies coming to the lab to be tested were 7 months old.
To go on exploring the baths we are moving to a slightly warmer and larger pool, surrounded by Roman style marble columns.
UF: You designed the famous Smurf task. Can you briefly describe what your aim was with this task?
AK: We wanted to we find out whether human beings would spontaneously track another agent's belief about a location of an object – even when the agent and his beliefs are completely irrelevant for the task. So, basically, we transformed an object detection task into an implicit ToM task.
UF: The other agent was a Smurf! The thrilling question was whether observers, adults or babies, were influenced by the Smurf's belief. So when he had a false belief, namely that an object was still there when it had actually been removed, then the observer might be systematically affected by this. But how did you measure the effect on the observer?
With adults we used a simple visual detection paradigm. They have to detect the presence of a ball and press a button as quickly as possible when it was present. We knew already that our expectations and knowledge modulate behavior. For instance, imagine a person arriving to a crowded airport and spotting her best friend. She will be much faster in noticing her friend if she knew in advance that the friend was waiting for her, as opposed to the situation when she did not know that the friend was coming.
In our baseline task participants watch short video and have to detect the presence of a ball behind a screen when the screen falls. We find that they are faster in detecting the ball when they have previously seen the ball rolling behind the screen, and expect it to be there, as compared to the situation when they have seen the ball rolling out of the scene, and thus don't expect to find the ball.
In our critical condition we vary the belief of the Smurf and this is how we did it: if the Smurf walks out of the scene before the ball rolls away, he would "think" that the ball is still behind the screen.
UF: Ingenious! So you expect participants not only to be faster in detecting the presence of the ball when they themselves believed the ball to be behind the screen, but also when the Smurf believed this.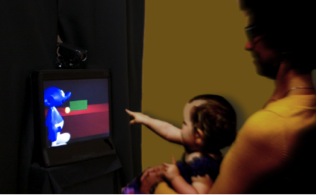 AK: And this was the result. It suggested that just watching animations could lead participants to automatically compute the Smurf's (false) beliefs, even though the Smurf's belief was entirely irrelevant to the task they had to perform.
UF:  What was the task in the case of the infants?
AK:  Here we measured looking time. In exactly the same situation as the adults, they looked longer when the Smurf had a false belief.
UF: These findings must have just clicked into place for you. It must have been thrilling to see your 'high risk' study work out.
We visit the steam room and are surrounded by thick mist. My glasses completely become clouded and I can only see through a fog. After a refreshing shower we brave the outside. There is an open air hot pool at Szechenyi baths. An amazing sight greeted as: steam rising against a purple evening sky, lights glinting and water pouring from the spouts of statues at the edges of the pool. We braved a short walk through the cold air and then gratefully slipped into the delightful warmth of the water. 
AK: Well, arriving to the final design took many hours of discussions with Erno and Ansgar to make sure we control for various factors to rule out other interpretations. Another difficulty was that we wanted to use the same movies with adults and young infants, thus movies had to be simple (1 location, 1 object, 1 agent).
UF: Can you tell me something about your collaborators, Erno Teglas and Ansgar Endress?
AK: It was Ansgar I had the conversation with in the train when it all started. He suggested that we test the paradigm first with adults.  Here we used Reaction Times, not eye gaze. This was a really good idea. Ernö was indispensable. First he was my boyfriend, and we previously had had long discussions on how to study ToM in infants; second he was doing a PhD where he had gained the necessary experience with studying looking behaviour in infants.
UF:  Can you briefly summarise the results?
The results were just as I had expected. With the adults and then also with the babies, when we used eye gaze as a response. We have found that adults and infants spontaneously tracked an agent's belief about a location of an object, even when the agent and his beliefs were completely irrelevant for their task.
UF: I believe it took some time before you published the paper?
AK: I had to finish my PhD first. We did present the results at a conference and it was known what we were trying to do – and there were many skeptics.  So we did not rush to get into print. We wanted to do every thing properly and be sure about our results…
The nice thing was that Jacques Mehler encouraged us to submit the paper to Science, and just as the three of us, only students, without him as a senior author. This is actually quite rare, and it had the additional benefit, that on the strength of this publication I could apply for a European grant.
After more showers, and a short stay in a sauna, Agi and I get ready to leave. But first, we share a refreshingly cold Stella Artois overlooking the outdoor pool. The evening visitors are now arriving.
UF: Thank you for telling me the story behind the Smurf experiment. I vaguely remember when I saw this study, when it was published in Science in 2010 it made me jump for joy. It was not only because I liked the results – it was the beautiful design that made it possible to compare children less than 1 year old with adults. Getting the same results for both groups really put a big question mark about what we call 'development' of Theory of Mind. New questions had to be asked. For example: Is the ability to attribute mental states part of our brain's hard ware?
AK: Well, this is a highly interesting question! Together with my students and collaborators we are currently performing studies addressing this question as well.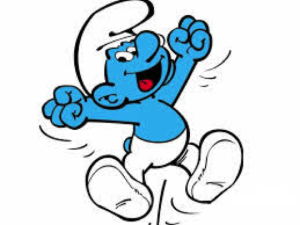 Post-script 30th April 2014:
"Why on earth was it a Smurf?"   Because they are cute, of course,  but here is Agnes:
"The practical reason was that we had the software to animate a Smurf, making him roll the ball, turn around, move along, and so on. Also we knew from other experiments that babies really love animated shapes.  They don't need to watch real people doing things to pay attention; simple shapes with faces and self initiated movements are just as good, if not better. Deep down there was perhaps also another reason: For our generation, and certainly for Ernö, Ansgar and myself,  Smurfs are incredibly bound up with happy childhood memories."